Entertainment
90s Shows We Certainly Miss
From #TGIT to #TBT
by Jessica Johnson
Ahhhh, the '90s. Cross Colours and Filas. Pop Rocks and zebra striped bubble gum. Bill Clinton was playing the saxophone on The Arsenio Hall Show and Michael Jackson's music videos were a prime-time family affair. The '90s were an era of change and conversation, and television shows were a reflection, not just "reality."  And since nostalgia is in, we're listing a few of our favorite shows.
The Jamie Foxx Show
Riding the fame from the runaway hit variety show In Living Color, Jamie Foxx landed his own show in 1996. Jamie King runs a family hotel with his aunt and uncle while pursuing his personal dreams of stardom in Los Angeles. Along the way, we are taken on a ride as Jamie competes for the attention of Front Desk Manager Fancy, beefs with his co-worker Braxton (skkkkuuuuurrrrrrt!), and tries to make it big with the hotel's many high-profile guests. The Jamie Foxx show gave us a ton of music guests ranging from Patti LaBelle to Mary J. Blige, which signaled to Hollywood proper that Foxx was ready for the big screen and bigger awards before the show ended in 2001.
The Parkers
A spin-off of Moesha (which we also loved), comedian Mo'Nique and Countess Vaughn were a dynamic duo in The Parkers. The two played mother and daughter Nikki and Kim who both enter college at the same time (sounds like a movie that came out recently) and deal with the fallout. With their fabulous hair and matching outfits, Nikki and Kim work through the awkwardness of being peers and mama Nikki's relentless pursuit of her dream man and instructor, Professor Oglevee.
https://media.giphy.com/media/GQRWhXqB7WQBW/giphy.gif
The Wayans Bros.
The youngest of the Wayans family (at the time), Sean and Marlon Wayans delivered a ton of laughs playing bothers running a newsstand in a busy hub in New York City. Their father, "Pop," played by John Witherspoon, owned a diner in the same building. At the time, The Wayans Bros. didn't get the respect it deserved, but now that it's in syndication, anyone can relate to the loving rivalry between the brothers or the quick wit of Pop as he helps his sons navigate adulthood. Every day there was either a plan to get rich, like Marlon's tabloid picture with En Vogue that almost got the whole family sued, or we saw the lengths Sean and Marlon would go to impress women. And we can't forget the interjections of the station security guard, Dee Baxter. She kept the men in line, and her hair and nails were always intact.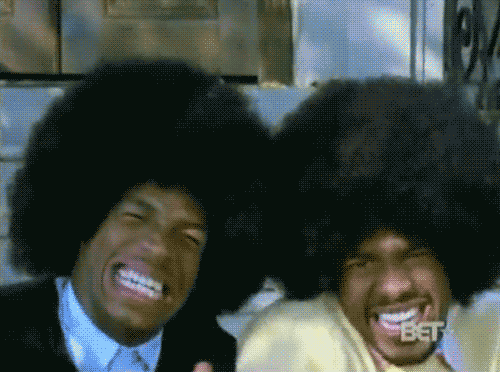 Family Matters
The Winslows of Chicago were a spin-off-turned-hit after introducing the dorky neighbor next door. Yes, we mean Jaleel White as the lovable Steve Urkel. Steve's longing for eldest daughter Laura Winslow played out like a twisted love song. Ironically, when Steve finally gets a girlfriend of his own, Laura couldn't stand her own jealousy. It also was funny how Laura fell for the mysterious Stefan Urquelle who was clearly Steve in disguise. Talk about the revenge of the nerd.
Here's a fun fact: With its nine seasons running from 1989 to 1997, Family Matters is the second longest-running non-animated U.S. sitcom with a predominantly African American cast. The first is the classic 70s sitcom The Jeffersons.
Living Single
Before we made Friends or had Sex and the City, we were Living Single with Queen Latifah in 1993. Queen played tenacious magazine owner Khadijah James living with her cousin and childhood friend in a cute brownstone in Brooklyn, New York. Friend Maxine Shaw and neighbors Overton and Kyle add "Flavor" as they date and dash all over the city. If you miss this 90s kind of world, don't fret — Queen Latifah recently hinted at the possibility of a reboot.
Martin
If you've ever told someone you "can't pay the five" or unceremoniously told someone to "get to steppin" on the playground, you can thank Martiiiiin Lawrence. Martin changed the game masterfully playing himself and co-stars like the Ole Odis the Security Guard, The Original Playa from the Himalayas, Jerome, and the formidable Mama Payne. But this show was really all about Martin's love for his big-headed, high-booty girlfriend Gina, shady tit for tats with Gina's best friend Pam (I have a personal fan theory that Martin and Pam were secretly attracted to each other), and constantly misreading the signs of attraction with his boys ,Tommy (RIP Thomas Mikal Ford) and Cole. The only question that remains is: Did anyone figure out what exactly Tommy did for a living?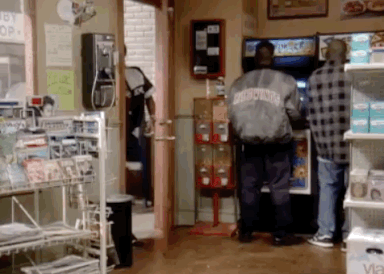 The Fresh Prince of Bel-Air
From the moment Will Smith starts his story about how his life got flipped upside down, he set foundation for the rapper-turned-actor model. There's no need to explain the plot of this show because the theme song is surely playing in your head, but who can forget (the original) Aunt Viv's dance sequence or the many interludes from Carlton Banks or the ditziness of Hillary? No one, that's who. In true '90s fashion, The Fresh Prince of Bel-Air also had one of the best lineups of beautiful co-stars. Elise Neal, Tyra Banks, Robin Givens, Lela Rochon, Garcelle Beauvais (who goes on to play Fancy in The Jamie Foxx Show) Vivica Fox, and Tisha Campbell-Martin (better known as Gina) all play Will's love interests at some point in the show.
We know you're asking: What about the Steve Harvey Show? While we know it's one of the best shows of the '90s, we can't go tooting our own horn. For now, we can only binge, stream, and repeat, or wait for the next round of reboots. What were some of your favorite shows from the '90s (or beyond)?
Honorable Mention: Malcolm & Eddie
After The Cosby Show, it was hard to envision Malcolm-Jamal Warner as anyone other than Theo Huxtable. That was until he reemerged as Malcolm McGee in UPN's Malcolm & Eddie. The polar-opposite best friends and business partners take their big dreams and hysterical charms all over Kansas City, Missouri. The laughs come from watching Malcolm exaggerate his wealth to impress his dates or Eddie Griffin dodge the advances of Karen Malina White as Nicolette Vandross (though, nobody is going to love Eddie like Nicolette did). This show helped Malcolm-Jamal Warner do what many child actors don't — grow up.