Home
Score discounted wrapping paper and greeting cards from this Black-owned brand for the holidays
You can tell a lot about a person with the way they wrap a present. If someone hands you a gift inside a paper bag, there's a good chance that they "wrapped" it in haste or did not set aside time to package your present with care. But if the gift is intricately hand-wrapped using beautiful wrapping paper, it's likely that they put much thought into it and wanted to make sure that you know your present was handled with care.
If you're taking the time to hand wrap presents for the people you care about this year, you should ensure that you use gift wraps that will make the recipient excited to open it. Founded by Dr. Dionne Mahaffey, Culture Greetings is a Black-owned business that produces unique gift wrapping papers featuring diverse themes and people. Their products feature thoughtful imagery to help you connect with people that matter. The papers are made from recyclable paper and printed with non-toxic inks, and the designs promote inclusivity. Now, for a limited time, you can 6 feet of roll wraps featuring "A Wonderful Black Life – Holiday Gathering" design for only $24.95.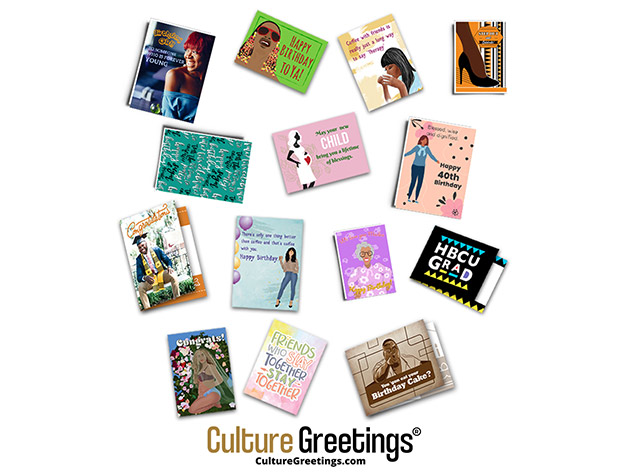 Want to throw in personalized greeting cards, too? You can also score beautifully designed cards for cheap. With Culture Greetings, you have the option to select a card online and write a note inside using handwriting fonts that mirror real penmanship. The company will print, stamp, and mail the cards directly to your intended recipient. You can select from more than 7 categories of greeting cards and include gift cards from brands like Amazon, Home Depot, iTunes, and more. Right now, just ahead of Black Friday, you can get $3.99 worth of Culture Greetings personalized greeting cards for just $2.99.
Prices subject to change.