Home
Snag 3 PlayStation Plus memberships and $20 credit at a steal price for a limited time
With Black Friday not being too far off, your eyes may be trained on the highly-coveted gaming console these days—the PlayStation 5. Even a year after release, it's still as demand as ever, with retailer restocks being snapped up within minutes. According to experts, though, the situation may improve as reseller prices drop. Your chances of taking home the console will then be higher.
Once you have the PS5 in your hands, you'll want to make the most out of it. And nothing else can improve your gaming experience than a subscription to PlayStation Plus (PS Plus). A subscription service designed to make gameplay more engaging, it lets you play with your friends online, gives you access to free titles, and more. Right now, you can snag subscription codes to PS Plus and a $20 store credit at a discounted price with the coupon code PLAYSTATION2021.
This package nets you three one-year subscription codes for full access to PlayStation Plus, which you can either give away or stack together to get three years of access. With a subscription, you'll get to connect with a massive online community of fellow gamers to compete in classic games like Star Wars: Battlefront, Uncharted, and many more. Cloud storage is afforded to you as well, allowing you to upload saved games and character profiles with no trouble.
If you want to expand your gaming horizons, you also receive a monthly collection of free games, in a library that is ever-expanding. Plus, you get exclusive discounts and deals, so the membership practically pays for itself on day one.
A one-year subscription to PlayStation Plus usually costs $59.99. But with this deal, not only will you get three one-year subscription codes, but you'll also enjoy a $20 credit which you can use on anything on the Steve Harvey Shop. By entering the code PLAYSTATION2021 at checkout, you can get it all for just $119.99.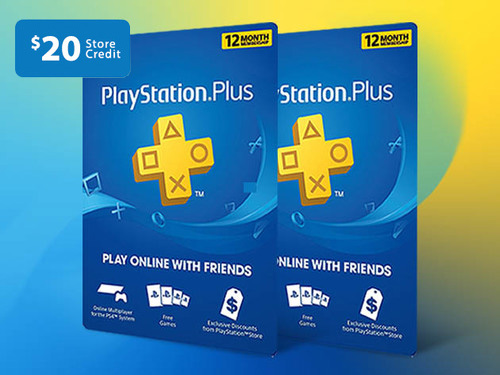 PlayStation Plus: 3-Yr Subscription Stackable Code Bundle + $20 Store Credit – $119.99 w/ code PLAYSTATION2021
See Deal
Prices subject to change.