Body
Stop Feeling Sore and Take 50% Off This Genius At-Home Muscle Recovery Kit
Are you sore from an intense workout or just tired from running errands all day? No matter what it is, your muscles need a break and the Maji Sports Home Muscle Recovery Bundle is the lifesaver you've been waiting for.
Maji Sports is an LA-based company founded by longtime fitness connoisseur Giovanni Villa, which proves you're certainly in good hands. The bundle includes an array of items guaranteed to relieve any pain you may be feeling in your body.
Each pack comes with a silicone trigger point ball that's designed to make any tight muscles in your lower back, neck, and glutes feel new again. You'll also receive a deep tissue roller stick, which increases blood flow in your calves, quads, hams, and thighs to avoid soreness.
In addition, there's a two-inch massager that loosens up stiff muscles in your hands, arms, and legs. Wait, that's not all. There's no forgetting the three-inch massager made for your feet, calves, hams, glutes, and hands. Finally, you'll find a mini travel foam roller to get rid of any back pain that's left.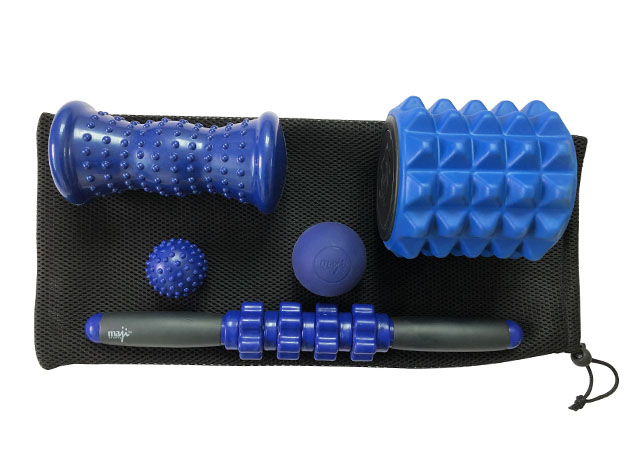 If all these things combined don't help you feel zen and refreshed, then who knows what will? As soon as you add this bundle to your wellness arsenal, you'll feel ready to take on whatever fitness activity comes your way. Considering, the bundle has already been marked down by 50%, you shouldn't hesitate making this purchase.
Why not treat yourself to the ultimate muscle recovery kit at just $69.99 from its original price tag of $141? Then, while you're at it, snag a subscription to the premium fitness app you've always wanted or hire a top-notch personal trainer who can make a real difference in your routine. One thing's for sure, you can never be too early or late to care about your health.
Price subject to change.